Download this Year's Full Program by Clicking Here.
The 48th Annual GAEF Conference Will Occur at
Callaway Resort and Gardens
April 16-17, 2020
17800 US Hwy 27
Pine Mountain, GA 31822
To get our specially negotiated price for YOUR room,
book your hotel by clicking HERE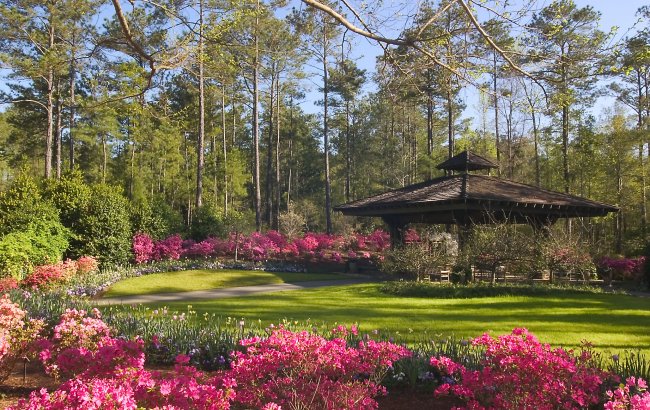 Thursday, April 18th, 2019
4:00 p.m. Registration Lobby
5:00 – 6:00 p.m. Welcome Meeting/Happy Hour &
Student Poster Presentations Cason's Bar
6:15 – 8:00 p.m. Dinner and Speaker Cypress Room
"Ebru Evliyaoglu Akyuz has 18+ years experience in Machine Learning and Data Science. She joined Microsoft in February 2018 as an Artificial Intelligence Solution Architect. She helps companies drive innovation and achieve more in the area of Artificial Intelligence and Machine Learning. She empowers and educates senior customer executives, developers, and architects on AI technologies and solutions. Her areas of expertise are Cognitive Services, Azure Machine Learning, Deep Learning, and Video AI.
Previously, she was Director of Digital Analytics at CNN. She was responsible for establishing data strategy and enabling advanced analytics for all CNN Digital properties. She also held various positions at companies such as Cox , and UPS focusing on Digital Analytics and Data Science.
Ebru earned a bachelor's degree in Statistics from Yildiz Technical University and a master's degree in Information Technology from Kennesaw State University.
Friday, April 19th, 2019
7 – 8:30 a.m. Breakfast Cypress Room
8:30 – 9:00 a.m. Business Meeting Sourwood 2&3
9:00 – 1:00 p.m. Concurrent Sessions Sourwood 4&5
1:15 – 2:55 p.m. Lunch and Guest Speaker Cypress Room
2:55 p.m. Closing Remarks and Adjournment Cypress Room
Sourwood 2&3
9:00-9:20 a.m. Vivian Kirby, Unleashing the Potential of Ecuador's Human Capital and Natural Resources
9:25-9:45 a.m. Francis Makamu, Land reform, Property Rights and Private Investment: Evidence from a Planned Settlement in Rural Tanzania
9:45 – 10:00 a.m. Coffee break
10:00-10:20 a.m. Yongseung Han, Willingness to Pay for Online Course and Taking Online Class
10:25-10:45 a.m. Hiuko Adams, Team Learning: An investigation of the Impact of Small Study Groups on Students' Self Efficacy and Achievement
10:45 – 11:15 a.m. Coffee break and Checkout
11:15 – 11:35 a.m. John Barkoulas &Arav Ouandlous , Nonlinearities in cryptocurrency markets
11:40 – 12:00 a.m. Donald Ariail, PwC and the Colonial Bank Fraud: Ethical Lapses & Violations of Auditing Standards
12:00 – 12:15 p.m. Coffee Break
12:15 – 12:35 p.m. Michael Patrono & Murat Doral, The Economics of Immigration: Teaching the Controversy
12:40 – 1:00 p.m. Robert Hopkins, Signals from the Yield Curve
Sourwood 4&5
9:00 a.m. Mona Ray, Measuring Regional Program Effectiveness in Fostering Self-Reliance Among Indian Sex-Workers
9:25-9:45 a.m. Jordan Ball, Does Teacher Autonomy affect Teachers Per Capita?
9:45 – 10:00 a.m. Coffee break
10:00-10:20 a.m Mark J. Flowers, Freeriding: An Exploration into the Narratives on NATO
10:25-10:45 a.m. Neetu Kaushik, Impact of FREDcast on Student Engagement and Performance in Introductory Macroeconomic Class
10:45 – 11:15 a.m. Coffee break and Checkout
11:15 – 11:35 a.m. Donna Danns & George Danns, The Pursuit of Entrepreneurship by Youths in the Caribbean: Support, Challenges and Optimism
11:40 – 12:00 a.m. Franklin Imarhiagbe, The Impact of the Trade War on the US and the Chinese Economies: Effects of Tariff Increase on the US Agricultural Sector and the Chinese Manufacturing Sector.
12:00 – 12:15 p.m. Coffee Break
12:15 – 12:35 p.m. Zeynep Kelani, Artificial Intelligence: Implications for Business Strategy: a New Kind of Collective Intelligence and Smarter Organizations, Smarter Classrooms
12:40 – 1:00 p.m. Jose Mesquita and Ken Heineck, Pearson MyLab Economics/Finance Presentation: How Pearson's MyLab Economics/Finance can enhance the teaching and learning of economics and finance!
Lunch will be served after the last speaker, and we are honored to welcome our lunchtime guest speaker:
Princeton Williams
Senior Outreach Program Manager
Federal Reserve Bank of Atlanta
Princeton joined the Federal Reserve Bank of Atlanta's outreach team in 2018. He oversees a variety of outreach efforts, particularly in the areas of the Monetary Museum and the Bank's economic education program.
From 2006 to 2018, Princeton led the Dallas Fed's outreach programs, including their economic education and museum programs. He curated a special exhibit commemorating the Dallas Fed's Centennial. Princeton served as content editor for the Dallas Fed's Everyday Economics series and co-authored their classroom resource, Navigate: Exploring Colleges and Careers, designed to introduce students to the pathways to college and careers.
Princeton currently chairs the Federal Reserve System's economic education group, and he served as the chair of the Texas Jump$tart Coalition's board. In 2015, Princeton served as a member of the Texas Education Agency's standards writing committee that developed the state-wide standards for the personal finance course taught in all Texas high schools.
Before joining the Dallas Fed, Princeton taught AP Microeconomics and AP Macroeconomics for thirteen years, having developed the first AP Microeconomics course in the Fort Worth Independent School District in the early 1990s. In 2004, while completing his master's program, Princeton completed a graduate internship at the U.S. Dept. of Housing and Urban Development.
Princeton earned a bachelor's degree in business administration from Southern Methodist University, teacher certification from Texas A & M Commerce, and a master's degree in economics from the University of Texas at Arlington.